26/05/2017 at 15:40
We've come to the end of the hardest working half-term ever! The children have been amazing and we are so proud of them.
Half-term homework is to continue learning the words from the Year 3/4 and Year 5/6 Spelling lists. This is the last big push!
We've continued with our focus on writing, completing two independent pieces to contribute to the evidence in our writing portfolios. The first was a descriptive setting based on the painting, "Starry Night" by Vincent van Gogh. The second was a redraft of a Kensuke's Kingdom diary entry we wrote all the way back in September. The children were shocked by the simple errors they had made and how much progress they have made in 8 months.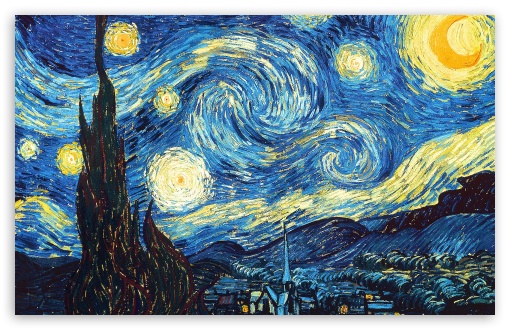 Today we enjoyed a full morning of Science investigating Light. The class proved that light travels in a straight line, experimented with shadows and reflective objects, made light bend in a stream of water, created coloured lights using filters and used a prism to refract light into rainbows on the playground.
25/05/2017 at 17:12
This morning, the children of 6T arrived to find some presents on their table. But what was inside?
The class used their source analysis and enquiry skills to find out by feeling the objects carefully and thoughtfully. They described the size, shape, material etc and speculated about what the item was used for.
Then, they attempted to draw the object without being able to see it. Finally, the big reveal! What each item was and how to use it… some were definitely easier than others.
Photos to follow from a fun lesson.
19/05/2017 at 15:28
It was good to get back to some normality this week in maths. We have covered the following in the lessons:
consolidated counting backwards from large numbers in powers of 10, 100, 1000, 10000 and 100000 e.g. count back from 564781 in 10000 giving the next 10 numbers
learned the divisibility rules for numbers e.g. a number is divisible by 3 if the sum of the digits in that number equal 3,6 or 9 so 246714 is divisible by 3 because 2+4+6+7+1+4 = 24 and 2+4 = 6
improved fluency when counting in multiples of 2 through to 10 as well as in multiples of 15, 25 and 50
We also started a consecutive numbers investigation which we will continue next week. Next week's maths will also include a different investigation involving divisibility.
Homework has been set and is below:
Multiples Homework 1 Multiples Homework 2
Have a good weekend
Mr Cooke
17/05/2017 at 11:41
Following the Leeds Book Awards ceremony in the morning, shortlisted author, Peter Bunzl, came to visit Farsley Farfield on Tuesday afternoon. Our Year 5 & 6 children were joined by the Year 5 & 6 children from Farsley Springbank Primary School for this exciting event.
Click here to go to Peter Bunzl's website.
Peter told us about his fantastic book, Cogheart, and his brand new book, Moonlocket, which has only just been published.
It was fascinating to hear how his interest in the Victorians, robotics and airships combined to create such fast-paced, gripping adventure stories. One of the main characters in his books is a robotic fox. With our own foxes at Farfield, Peter really captured our interest.
Peter Bunzl posted about his visit to Farfield on Twitter. Click here to go to his Twitter page. Look for our fox display and some photos of his visit.
Opportunities to meet and hear from published authors are so valuable for children as it encourages them to read and write and shows them what they can become in the future. A highlight of the day for me was watching one of our Year 6 children ask for her Extended Writing book to be autographed and then discuss her current story with Peter Bunzl – two authors sharing ideas and encouraging one another.
17/05/2017 at 11:27
On Tuesday 16th May, a group of Year 6 children attended the Leeds Book Awards 2017 ceremony at Pudsey Civic Hall with 500 other children from schools around Leeds.
Click here to go to the Leeds Book Awards website.
Leading up to the ceremony, all of the children in attendance had been a part of book groups at their own schools. They read the six shortlisted books, discussed them as a group, wrote on-line reviews and voted for their favourite.
Five of the shortlisted authors were at the Leeds Book Awards ceremony to find out if their book was the winner. They were each interviewed with questions submitted by the children and told us all about how they got started as a writer, interesting facts about their lives (one of them was the creator of Bob the Builder!), their inspiration for writing and their top tips for the children as they become authors themselves. It was fascinating to hear from so many published authors.
Click here to read a blog post by Jo Cotterill, one of the shortlisted authors.
During the ceremony, the host read a very funny story and asked for volunteers from the audience to help him act it out. One of our wonderful Farfield children was chosen to get up on stage and play the part of …. leaves!
Finally, the winner was announced and we were thrilled that it was one of our favourites – Murder in Midwinter by Fleur Hitchcock. We were excited to meet her and the other authors after the ceremony and have our books autographed.
11/05/2017 at 20:36
Next week, we start our next topic of the year titled: What the Romans did for us.
What would you like to learn about?
Comment with requests and any great sources of information that you can find.
If you have any Roman books at home, hold on to them for now but we will make use of them later in the term.